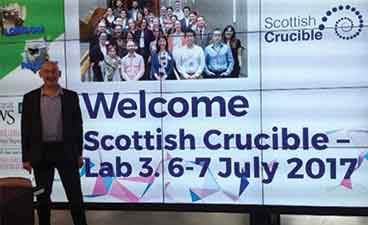 The final Lab of this year's Scottish Crucible 'leadership and development' programme for Scotland's most promising, early-career research leaders has concluded at the University of the West of Scotland (UWS) in Paisley.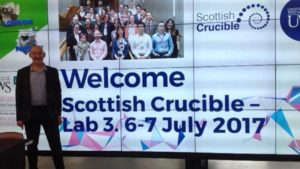 Hosted by radio science journalist, Quentin Cooper, the two day programme focussed on research impact and knowledge exchange, with keynote speakers including Dr John Nicholls, Commercial Director of M Squared Lasers Ltd,  and Dr Craig Johnston, Industry Director at CMAC (Continuous Manufacturing and Crystallisation).
Principal organisations fostering business engagement and economic development in Scotland were represented (Scottish Enterprise; Interface; Converge Challenge) and examples of outstanding academic entrepreneurship featured – Dr Dave Hughes, Founder and CTO of Novosound, and Prof Stuart Reid, co-Founder of the award-winning Nanokick Technologies.
The potential for academic research to reach wider audiences and stimulate social and cultural engagement were further explored via contributions from Prof Stuart Monro, OBE (Scientific Director of SCRR); Prof Chik Collins, UWS School of Media, Culture and Society; and Dr Evi Viza, Manufacturing Engineer and RAEng Ingenious project participant.
Stuart McMillan of Renfrewshire Council explained how the local culture and heritage-led regeneration strategy has informed a bid for Paisley to become UK City of Culture; and Prof Sandy Stoddart, the Queen's official sculptor in Scotland, provided an inspiring visit to his art studio located within the UWS campus.
Many local Scottish Crucible Alumni were able to join current programme participants at Lab 3 for a networking dinner at Paisley Abbey, hosted by Prof Ehsan Mesbahi, Vice Principal and Pro Vice Chancellor, UWS and Scottish Crucible Directors, Dr Ruth Neiland and Prof Alan Miller.
Reflecting on their experience of Scottish Crucible, the 2017 cohort were unanimously positive;
• Dr Lucas Richert, University of Strathclyde said: "The Scottish Crucible was a jolt of intellectual electricity. Each lab struck a spectacular balance between fostering outside-the-box creativity and presenting practical engagement strategies. Importantly, the goal of bettering Scottish society was never once forgotten. It was an honour to participate."
• Dr Hannah Burrows, University of Aberdeen said: "For a researcher in the humanities, this is a unique opportunity to talk about research with natural scientists and engineers, and there is a huge degree of openness and mutual respect. I've already begun to discover connections and potential collaborations, and have scaled up my thinking by an order of magnitude with respect to collaborative projects and research impact."
• Dr Jose Marques-Hueso, Heriot-Watt University said: "Scottish Crucible has been an unbelievably insightful experience into cross-disciplinary research. The labs are designed to engage professionals from all the knowledge fields towards common research objectives with societal impact. I take home some good ideas and the network to develop them. I am extremely glad of having had this opportunity."
For further comments from Scottish Crucible @UWS, check out out Storify.