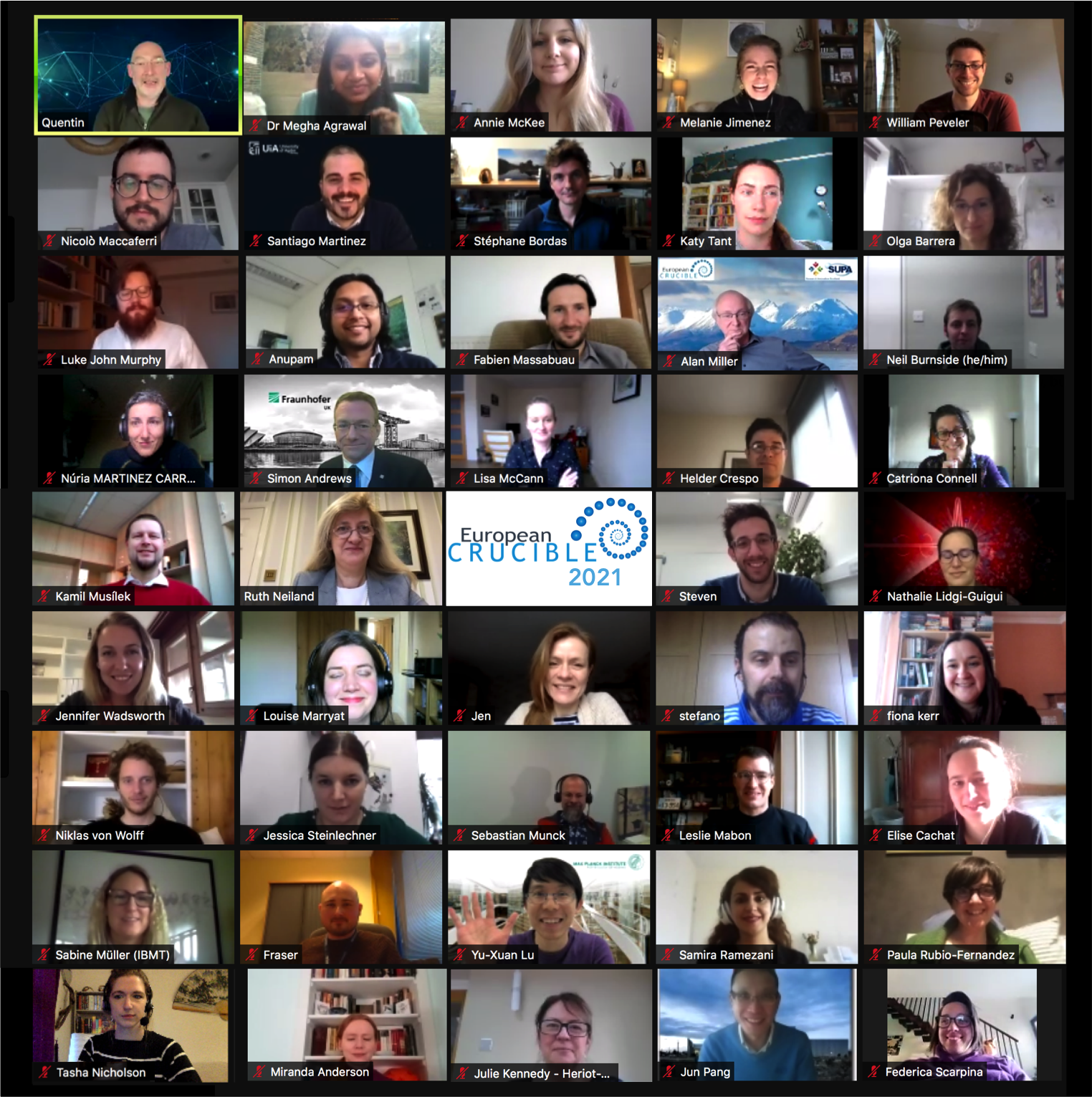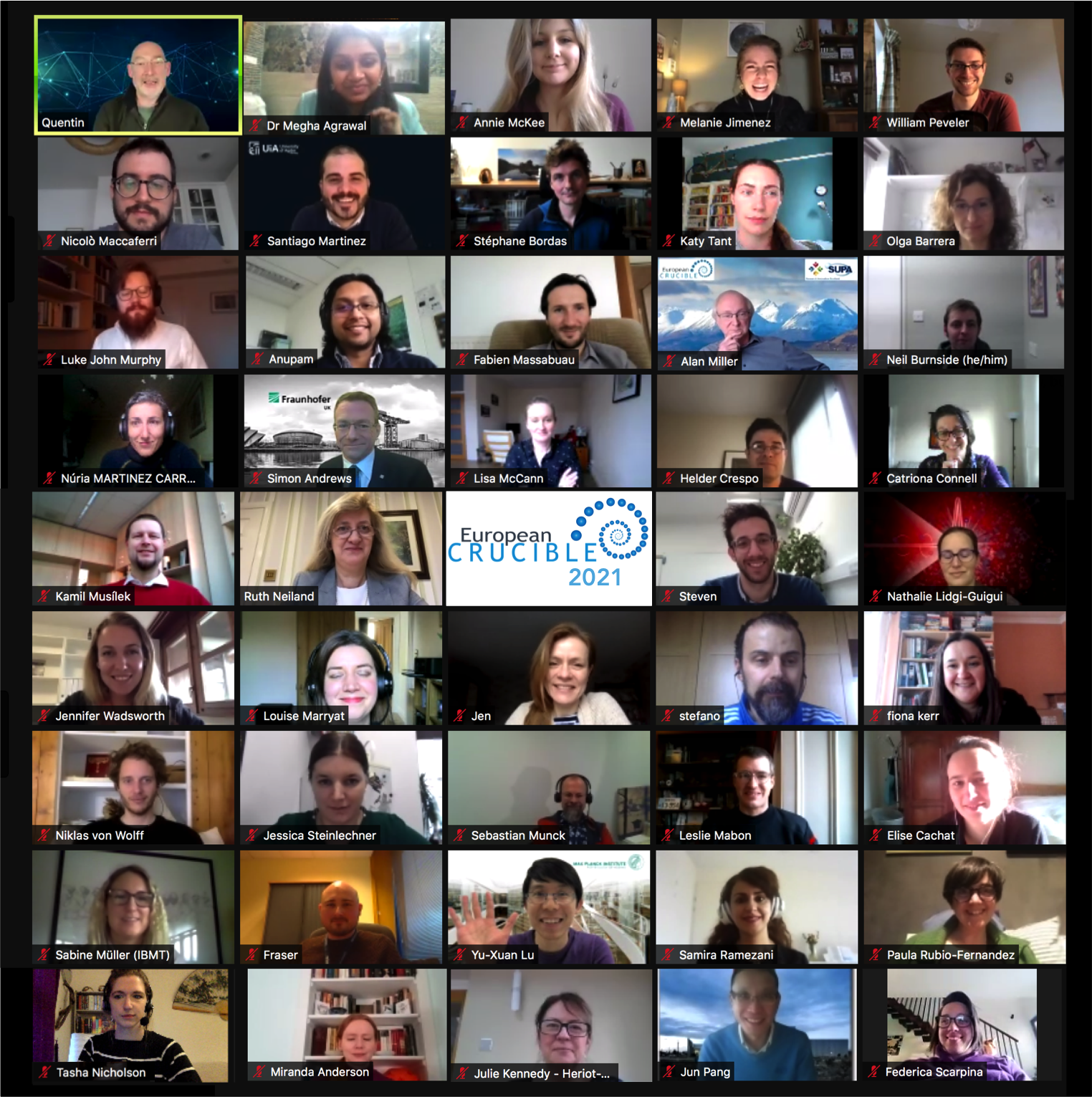 European Crucible 2021, an initiative aiming to create a new network of research leaders from Scotland and Europe, has completed its inaugural programme with an interdisciplinary collaboration challenge for its 50 specially selected Crucible participants.
Distributed across 13 European countries and representing over 30 Universities and research institutes, European Crucible participants undertook the highly interactive, virtual programme as a group together over 2 months. Now their challenge is to formulate collaborative group proposals for pilot projects which are international, interdisciplinary, innovative and sustainable. The winning bids to the European Crucible Project Fund will be announced in May 2021.
Inspiration as to the potential of ambitious interdisciplinary research collaboration was offered throughout European Crucible 2021 by high-level, invited speakers from a variety of sectors, including:
Government and funding bodies:
Dr Stuart Fancey, Director of Research and Innovation, Scottish Funding Council; Christina Miller, Director, UK Research Office, Brussels; Richard Lochhead, Member of the Scottish Parliament, Scottish Government Minister for Further Education, Higher Education and Science.
European research and financial institutions:
Simon Andrews, Executive Director, Fraunhofer UK Research Ltd; Dr Debora Revoltella, Chief Economist, European Investment Bank, Luxembourg.
University sector:
Professor Charles Cockell, co-Director of the UK Centre for Astrobiology, University of Edinburgh; Dr Philippe Delfosse, Advisor to the Vice-Rector for Research, University of Luxembourg; Professor Sir Jim McDonald, Principal and Vice-Chancellor, University of Strathclyde & President, Royal Academy of Engineering.
Media and broadcasting:
Quentin Cooper; Vivienne Parry
Scottish Crucible Academic Alumni:
Professor Stéphane Bordas, Professor of Computational Sciences, University of Luxembourg; Professor Mirela Delibegovic, Dean for Industrial Engagement in Research and Knowledge Transfer, University of Aberdeen; Professor Stuart Reid, Head of Biomedical Engineering, University of Strathclyde.
European Crucible was organised in partnership between i) the Scottish Crucible team of the Research Futures Academy, Heriot-Watt University; ii) 'SUPA' on behalf of the network of Scottish Research Pools ; and iii) the University of Luxembourg. It was funded by the Scottish Government (via the Scottish Funding Council), the FNR (Luxembourg National Research Fund), and the University of Luxembourg.
25 researchers from Scotland and 25 researchers from 12 other European countries were selected to take part in the inaugural European Crucible programme. Reflecting on their experience of European Crucible, participants said:
"Absolutely loved this programme. Inspiring researchers, innovative ideas, but most of all amazing people" Dr Fiona Kerr, Lecturer in Molecular Pharmacology, Edinburgh Napier University.
"Very happy, honoured and humbled to be part of this wonderful initiative! Interdisciplinary connections are the key to push forward revolutionary ideas!" Dr Nicolò Maccaferri, Research Associate and Principal Investigator, Department of Physics and Materials Science, University of Luxembourg.
"Fabulous European Crucible closing session. The magic of interdisciplinary collaborations manifesting in all sorts of weird and wonderful ways. Looking forward to seeing where these new connections lead!" Dr Katy Tant, Chancellor's Fellow, Department of Mathematics and Statistics, University of Strathclyde.
Further details:
European Crucible is built on the success of the national 'Scottish Crucible' programme: https://scottishcrucible.org.uk/european-crucible/
Participants:
Scottish Cohort: https://scottishcrucible.org.uk/european-crucible/scottish-cohort/
Rest of Europe Cohort: https://scottishcrucible.org.uk/european-crucible/european-cohort/
Contact:
EuropeanCrucible@hw.ac.uk
Scottish Crucible Directorate
Research Futures Academy
Heriot-Watt University