Dr William J. Peveler
Lord Kelvin Adam Smith Fellow
University of Glasgow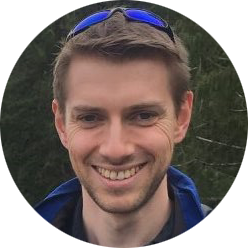 Dr William Peveler is a Lord Kelvin Adam Smith Fellow in the School of Chemistry at the University of Glasgow, where he founded the Bio Nano Sensing group in 2019. His group seek to exploit cutting edge molecular and nanotechnologies in real world sensing challenges. Team members synthesise new molecular receptors and nanomaterials with bespoke optical properties, and control the nano-surface chemistry to create sensors.
Current and planned projects include developing sensors for detecting liver disease and sepsis with biomedical engineers and clinicians; new materials for aeronautical engineers to help visualise fluid dynamics in wind tunnel testing; and with crime scientists, new tests for detecting counterfeit alcohol. In particular the group have an interest in the application of chemometrics and array-based sensing, bringing together chemistry, biomedicine, statistics and computer science to solve industrial and medical sensing challenges.
Will worked with Dr Martin Grossel and Professor Harry Anderson FRS at the University of Oxford for his MChem and then moved to London to undertake a PhD in Chemistry at UCL (Professor Ivan Parkin), as part of the SECReT CDT, for which he was awarded the Ramsay Medal. He then won an EPSRC Doctoral Prize Fellowship and Royal Society International Exchange Grant to undertake 2 years of postdoctoral work with Professors Claire Carmalt and William Rosenberg (UCL/Royal Free Hospital) and Professor Vincent Rotello (UMass Amherst), and subsequently a Killam Postdoctoral Research Fellowship at the University of British Columbia with Professor Russ Algar. Will joined the University of Glasgow in 2018 to begin his independent career. Away from the lab he enjoys trail running, wine tasting and making music with various groups across Scotland.
—