Dr Leslie Mabon
Senior Lecturer
Scottish Association for Marine Science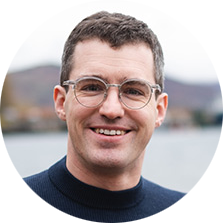 Dr Leslie Mabon is Senior Lecturer in Social Science at the Scottish Association for Marine Science. He is an interdisciplinary social scientist who is interested in how to balance competing values and ways of knowing in making decisions about the environment, in order to reach outcomes that are both scientifically appropriate and socially acceptable. Leslie's research has two main strands: resilience and climate change adaptation for coastal societies (both urban and rural); and the management and governance of risk in the coastal and marine environment. A geographer by training, Leslie is also interested in the interdisciplinary research process itself and enjoys collaborating with researchers from a breadth of backgrounds including urban ecology, landscape architecture, marine biology, and integrated coastal zone management.
Leslie has been responsible as Principal Investigator for securing competitive research funding from sources including ESRC, Wellcome Trust, the British Academy and the Japan Foundation; and has lead- or single-authored led outputs in leading interdisciplinary environment and society-focused journals. Leslie's research has had a strong international component, via collaborations in Japan, Taiwan and Vietnam, and he is now keen to strengthen these international links with stronger connections within Europe. This scholarly activity has led to collaboration with government and third sector organisations, and with industry. Examples of this include an evaluation of national competences for climate change adaptation carried out for the Scottish Government as part of the TRACTION project; and training workshops in social impact assessment and public engagement on new coastal energy technologies for the Engineering Advancement Association of Japan.
Leslie holds a PhD in Human Geography from the University of Edinburgh. He is a member of the Young Academy of Scotland – where he leads the Zero Carbon by 2045 Grand Challenge – and is a Future Earth Coasts Fellow.
—