Lecturer in Nursing, Centre for Health Science
School of Health, Social Care and Life Sciences, University of the Highlands and Islands
https://www.uhi.ac.uk/en/studying-at-uhi/nursing/people/macaden.html
Tel: +44 (0) 1463 279820 leah.macaden@uhi.ac.uk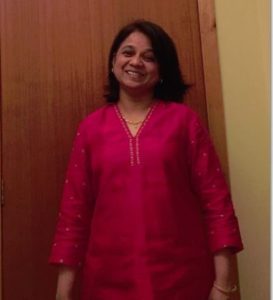 I was delighted with my success to attend the Scottish Crucible in 2013, which was the first of many blessings to follow with my nursing academic career in Scotland that began in Nov 2012.
Despite the significant breadth and experience for over 17 years in nurse academia in one of the finest institutions for nurse education in India (College of Nursing, Christian Medical College, Vellore http://www.cmch-vellore.edu/), my idea of research was limited to discipline specific projects and research supervision of postgraduate students. Scottish Crucible opened my eyes to a very different research world with some fascinating and creative ideas. The highlights for me at Crucible 2013 were the launch event at the Royal Society of Edinburgh, visiting the Scottish Parliament to understand the strategic links between research and health / social care policies, engaging with media professionals and presenting a mock pitch to a panel in the final lab. The central tenets of innovation, collaboration, interdisciplinarity and coproduction of modern research that I imbibed from the Crucible still stay afresh with me whilst I plan not just research projects but also pedagogical initiatives and educational programmes. In 2013, I was able to secure one of Crucible's interdisciplinary seed grants and confident to lead my first interdisciplinary and innovative project with Fellow Cruciblists (Webster E and Munoz SA 2013) and a Crucible Alumnus (Kyle RG, 2012). The project titled Human Dignity Narratives and Nurse Education, focused specifically on the care of older adults in the context of co-produced models of care integrating expertise in nurse education, human rights law and participatory research resulted in significant research outputs as outlined below. We are now developing the next phase of this project that is very relevant and timely within our rapidly shifting landscape of health and social care delivery.
In 2015, I was a successful co applicant on another interdisciplinary CSO funded project collaborating with three Scottish universities on pharmaceutical care for older people with sensory impairment, which has significant potential to inform policy for this group of vulnerable service users and led to three publications that are currently under review. As the PI on another Health Partnership project with India funded by the Tropical Health Education Trust. Participation in the Crucible added value to my recognition as a Senior Fellow of the UK Higher Education Academy and a special recognition award from the University of Stirling in 2016 in addition to being consistently successful in securing three funded PhD studentships as oulined below.
As a proud ambassador of the Scottish Crucible, I have been able to disseminate the Crucible idea locally and with my Alma Mater in India. As a beneficiary of the Scottish Crucible, I can affirm that this is a fantastic initiative and model to transform research, build research capacity and capability for Scotland and beyond.
Macaden, L., Kyle, R., Medford,W., Blundell, J., Munoz, S. A& Webster, E. (2017). What promotes or inhibits dignity in the care of older adults? Student Nurses' perceptions and insights. British Journal of Nursing, 26 (5), 274 -80.
Kyle, R. G., Medford, W., Blundell, J., Webster, E., Munoz, S. A., & Macaden, L. (2017). Learning and unlearning dignity in care: Experiential and experimental educational approaches. Nurse Education in Practice, 25, 50-56.
Munoz, S. A., Macaden, L., Kyle, R., & Webster, E. (2016). Revealing student nurses' perceptions of human dignity through curriculum co-design. Social Science & Medicine. DOI: 10.1016/j.socscimed.2016.12.011