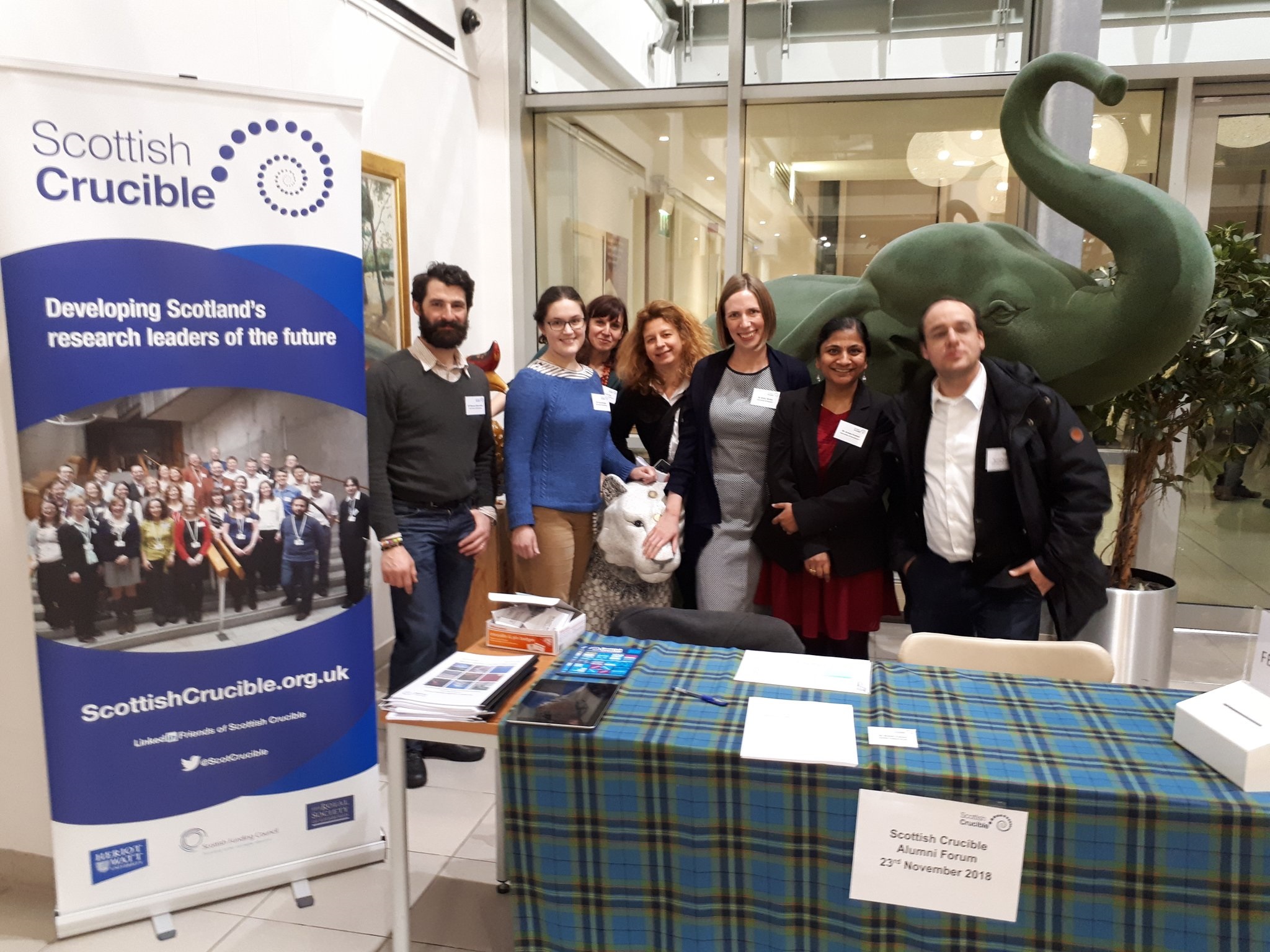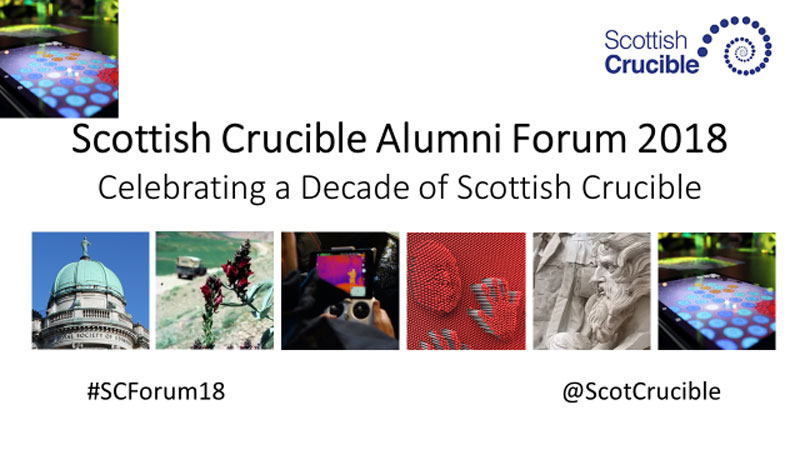 Celebrating a decade of Scottish Crucible
Academics, researchers and business leaders met at Edinburgh Business School, Heriot-Watt University last week to take part in this year's Scottish Crucible Forum.
After a decade of delivery, and with over 300 "research leaders of the future" having taken part in Scottish Crucible, the annual Forum was an opportunity to celebrate the impact Scottish Crucible has had on its Alumni's careers and research activities and consider new opportunities for researchers in the current research and innovation landscape.
The Scottish Crucible Alumni reported on funding won and on new projects and collaborations forged, whilst also reflecting on their individual career progression since taking part in the Scottish Crucible leadership and development programme. The Forum enabled them to further network with colleagues from the past 10 years' cohorts who represent multiple academic disciplines and research institutions in Scotland and now form the Scottish Crucible Alumni Network. "I have been very impressed with the breadth of this network", said external Forum guest, Dr Ian Archer, Technical Director of IBioIC (Industrial Biotechnology Innovation Centre).
Opportunities for researchers to learn from and engage with large research collaborations were highlighted at the Scottish Crucible Forum by Professor Arthur Trew (Deputy Director, Bayes Centre, University of Edinburgh), Professor David Lane (Director of the Edinburgh Centre for Robotics) and Professor Tom Wagner (Co-Director of the Lyell Centre, Heriot-Watt University). The value of collaborative, interdisciplinary research approaches in tackling Grand Challenges and effecting impact were further discussed by invited speakers including Mr Ian Ritchie, non-executive Chairman of Tern plc and Computer Applications Service and Professor Mercedes Maroto-Valer, Assistant Deputy Principal (Research and Innovation) and Director of the Research Centre for Carbon Solutions, Heriot-Watt University. Professor Maroto-Valer said after the event: "I am really impressed with the Alumni from Scottish Crucible. Congratulations on a decade of developing research leaders."
A focus on researchers engaging with the public was emphasised in the Forum, both by the host, broadcaster Quentin Cooper, and by programme speakers such as Dr Hermione Cockburn, Scientific Director of Dynamic Earth and Steven Vass, Scottish Editor, The Conversation. Professor Lesley Yellowlees, University of Edinburgh, discussed the findings of the recently published Tapping all our Talents Review , emphasising the demand for "more to be done" to increase the number and opportunities for women in STEM.
Concluding the Scottish Crucible 2018 Forum, Professor Richard Williams, Principal of Heriot-Watt University, and Dr Stuart Fancey, Director of Research and Innovation, Scottish Funding Council, highlighted the opportunities for "research leaders of the future" in Scotland. They emphasised the growing importance of multidisciplinary projects and collaboration with research partners in addressing global challenges and building international collaborations.
Scottish Crucible Director, Dr Ruth Neiland, said:"Collaboration, interdisciplinarity, innovation and leadership have been key, underpinning principles of Scottish Crucible for the past 10 years, and its Alumni are thus well placed to tackle a multiplicity of science and societal challenges and expand the boundaries of research and innovation in Scotland and internationally."