For the last ten years, Scottish Crucible has been led by Prof Alan Miller and Dr Ruth Neiland.
Prof Alan Miller – Scottish Crucible Director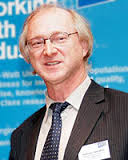 Prof Alan Miller is CEO of the 8 university partner Scottish Universities Physics Alliance (SUPA) with experience of research and knowledge exchange in a number of internationally leading universities and research centres in the UK and USA. He is a graduate in physics from the Universities of Edinburgh (BSc, 1971) and Bath (PhD, 1975); his specialist research and teaching has been in the areas of semiconductor physics, lasers and photonics bridging fundamental science with engineering in the area of optoelectronic devices for applications in communications and computing. He was the senior editor of an international optics journal for 17 years.
His research and professional activities have been recognised via Fellowships in the UK, (Royal Society of Edinburgh, FRSE, and the Institute of Physics, FInstP), and the USA (Institution of Electrical and Electronics Engineers, FIEEE, and the Optical Society of America, FOSA). He was co-PI on the largest single research grant awarded to U. St Andrews creating the Ultrafast Photonics Collaboration, an Interdisciplinary Research Centre funded by EPSRC. He has held the offices of Research Awards Convener (2008-2011) and Fellowship Secretary (2011-2014) at the Royal Society of Edinburgh, with membership of RSE Council and a number of committees including a working group to create the RSE Young Academy.  He has contributed to research policy in Scotland via membership of the SHEFC Research Policy & Advisory Committee / SFC Research and Knowledge Exchange Committee from 2003 to 2010.
He held the post of Vice Principal for Research at the University of St Andrews from 2003 to 2009 before moving to Heriot-Watt University as Deputy Principal / Pro-Vice Chancellor for Research and Knowledge Transfer from 2009 to 2014. These posts have included responsibilities for the development of institutional research and knowledge exchange strategies; institutional planning; major collaborative research alliances; international agreements; enterprise and commercialisation; industry partnerships; varied approaches to teaching; outreach and public engagement; and skills and leadership development for early career researchers. He has co-directed Scottish Crucible since its launch in 2009.
Dr Ruth Neiland – Scottish Crucible Director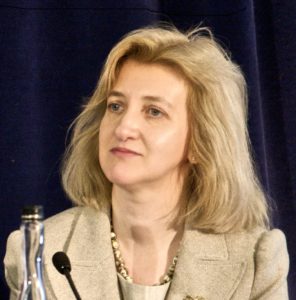 Dr Ruth Neiland is Head of the Research Futures Academy at Heriot Watt University.  The Academy designs and delivers University-wide, staff and student development programmes for the academic community.  It also leads prominent national initiatives – such as Scottish Crucible –  and supports inter-institutional research collaborations via bespoke 'research connect' programmes. Fostering collaboration, interdisciplinarity, innovation and leadership are key aims of the Academy's provision.
Since Ruth's appointment, the Academy has been nominated for several prestigious awards, jointly winning the Times Higher Education Award for "Outstanding Support for Early Career Researchers" in 2010; a Times Higher Education "Leadership and Management" Award in 2013; and an ARMA award for "Public Engagement and Advocacy" in 2015.   Ruth previously established successful researcher development programmes at the University of St Andrews and University of Aberdeen, and was Deputy Convener of the Universities Scotland Research Training Sub-Committee from 2007-2012.
Ruth is co-Director of Scottish Crucible, the national leadership and development programme for Scotland's "research leaders of the future" she set up with Prof Alan Miller 10 years ago.  Ruth has established on-going collaborations with colleagues at the Royal Society of Edinburgh, Scottish Government, Scottish Parliament, Scottish Funding Council and Universities and Research Institutes across Scotland to ensure delivery and development of the highly regarded, high impact programme.  Ruth has led several delegations of Scottish Crucible Alumni to the Euroscience Open Forum conferences (ESOF) and she continues to explore further collaborations for Scottish Crucible at a European level, most recently in Luxembourg and Toulouse in 2018.
Ruth's academic background is in Plant Ecology with a particular research focus on reproductive dynamics and biodiversity. She has carried out research in a variety of habitats and countries (including the UK, Alps, Mediterranean, Scandinavia and USA) securing  support from scientific and conservation authorities such as the Royal Society, Linnean Society, Carnegie Trust, Plantlife and Scottish Natural Heritage. The outputs of her research on rare or invasive plant species remain highly cited, and continue to contribute to environmental management plans and on-going botanical research internationally.